Dear Members,

The EU Withdrawal Bill recently passed, by 326 votes to 290, effectively ending the supremacy of EU law in the UK. Critics had warned that it represented a 'power grab' by ministers. Some in business and industry believe it has the potential to ease fears around Brexit.

Yet, opinions continue to be varied about the final deal. Indeed, as we put together our upcoming issue of INFO, focusing on the future of the City, we are reading a spectrum of Brexit analysis – from cautious uncertainty to excitement about emerging global markets.

As we move into the autumn, we are also excited about our forthcoming events, like the London Luxury Think Tank on 31 October and 1 November, organised in partnership with Walpole, and the FT as media partner. The event is the first of its kind in London, and promises to be an important new forum to explore topics such as Innovation & sustainability, future tech (AI, VR, AR), future consumers and new business models.

Also not to be missed is the annual Franco-British Business Awards on 30 November, which celebrate the vital trade and investment links between our two countries – now more prescient than ever. Get in touch to find out about applying. Categories include Start Up & SME, Large Corporate and Sustainability.

These are in addition to the raft of our regular Forums and Clubs, which explore the important questions facing businesses today in HR, Finance, Digital Transformation & Innovation, Climate change & Sustainability among others; and our Events, which celebrate the best in business, culture and gastronomy. Make a note of our Annual Financial Lunch on 23 November, where our guest speaker is François Villeroy de Galhau, Governor of the Bank of France. This and other important events are detailed below.

We look forward to seeing you there.


Florence Gomez,
Managing Director



The full list of events can be found in the right-hand column
18 September | 18.00-20.00
At Middle Temple
In partnership with 13 Chambers of Commerce
Cost: Member rate at £30+VAT per person ; Non-member rate £40+VAT per person
Book online


29 September | 8.00-10.00
At the Bulgari Hotel
Guest speaker: Fabienne Viala, Chairman, Bouygues UK
Cost: £40+VAT per person; £60+VAT - Special price for 2
Sponsored by: Paul UK
Book online

Senior Conservatives warn May after vote for second reading
Conservative MPs demanded significant changes to the EU withdrawal bill within minutes of backing it.
The Guardian
Theresa May challenged to debate Brexit issues face-to-face with MEPs in the European Parliament
EU Brexit coordinator Guy Verhofstadt has invited Theresa May to Brussels to debate her negotiating position with the European Parliament's MEPs.
The Independent
What Happens if Brexit Negotiations Don't Work?
It's been three rounds since negotiations began, and the parties aren't far from where they started. It's not out of the question that negotiators could fail to reach a deal.
The Atlantic
UK wants 'deep security partnership' with EU post Brexit
The British government wants a "deep security partnership" with the European Union after Brexit that is closer than with any other country outside the bloc.
Politico
BACK TO THE TOP

73 HEC Start-ups Move Into Station F
The HEC Paris Incubator - part of the school's Entrepreneurship Center - has relocated to Station F, the world's largest start-up campus. The business school's 73 start-ups settled into a 700m² open-space and will now benefit from the strength of the HEC Paris network to accelerate the development of their new businesses.
Mazars
On World Entrepreneurs' Day 2017 Mazars, the international accountancy and advisory firm, has launched 'elev8 by Mazars': a bespoke solution for SMEs which offers the full range of advisory and business support services to help businesses transform and take the next step on their growth journey.
American Express Global Business Travel completes Banks Sadler acquisition
American Express Global Business Travel (GBT) has completed the previously announced acquisition of Banks Sadler. The international event management agency, headquartered in London, becomes part of American Express Meetings & Events, a division of American Express GBT.
BNP Paribas
Today, the European Commission approved the proposed acquisition by Groupe PSA and BNP Paribas of the captive companies of Opel/Vauxhall.
Children of the Mekong welcomes two young graduates from Cambodia
Children of the Mekong UK, with the support of a corporate sponsor, is launching a new Scholarship. The UK branch of the French charity Enfants du Mékong, will offer the unique opportunity to live and work in London for three months, from 17 September 2017 for two Cambodian graduates.
This heading is yours!
Please send your news to Guillemette Simon We will choose a selection of news to publish.

BACK TO THE TOP

1 NEW PATRON MEMBER
SGG UK Limited


Financial Services
Represented by Emmanuelle Dotezac,
Market Leader UK
+44(0) 73 9813 6790
SGG Group is a leading multi-jurisdictional provider of financial services in Europe and beyond. We pride ourselves on the expertise and responsiveness we bring to our clients, providing tailored, global solutions in a transparent and cost-efficient manner.
2 new corporate members
Signature Communication


Training & Facilitation Services
Represented by Pinar Akkaya,
Managing Director
+44(0) 20 8274 8904
Signature specializes in communication training programs, personal brand and image consulting training, intercultural training and action-oriented facilitation for strategic meetings. The mission of Signature is to help companies, leaders and teams develop their competencies on human communication. Signature's references include several reputable multinational companies.
Koleksiyon


Office furniture
Represented by Fabrice Delaneau,
Brand Director
+44(0) 75 0050 8659
Koleksiyon comprises a group of companies which have 45 years' experience and aims to develop the highest quality ideas, standards and design concepts towards the creation of "the architecture of furnishing". As a brand which transforms simple lines into design pieces and signifies quality, Koleksiyon has maintained a strong presence in the furniture sector since the early 70's.







Positive Planet UK presents
its annual fundraising gala, in collaboration with '1:54 Contemporary African Art Fair', on Saturday 7th October at 7.30pm, at Somerset House. Tickets: £1,000 per person or £8,000 for a table of 10.
Contact Helen Aki for more information.

FranceInLondon.com presents
London's Favourite French Film 2017 VIP Awards and premiere of Hugo Gélin's latest film: Two is a Family.
VOTE NOW for your favourite French film 2017 and book your tickets for the VIP Gala Awards & UK Premiere of Two is a Family and Q&A with director Hugo Gélin and actress Clémence Poèsy.
Street League presents
its Gala dinner fundraising event at the Foreign and Commonwealth Office, on Thursday 12th October. Street League in the UK and Sport Dans La Ville in France organize a dinner on to recognise the strong links that already exist between the two great nations of the UK and France, especially through sport.
Contact Nithee Kotecha to book a table or for any other information.


LATEST ISSUE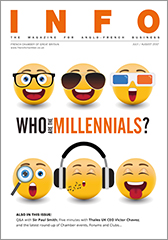 18 October | 18.00-20.00
Rendez-vous chez Joseph
At Joseph, Marylebone
Cost: £20+VAT

23 November | 12.00-14.30
Annual Financial Lunch
At The Langham Hotel
Guest speaker: François Villeroy de Galhau, Governor of the Bank of France
Sponsored by Societe Generale
Champagne partner: Vranken Pommery
Cost: £120+VAT per person, £1,150+VAT for a table of 10
30 November | 19.00-22.30
Franco-British Business Awards
At The May Fair Hotel
Main sponsors: Eurostar, Mazars
Supporting sponsor: Frenger International
Cost: £110+VAT per person, £1000+VAT for a table of 10
For sponsorship opportunities, please contact Anne-Claire Lo Bianco at alobianco@ccfgb.co.uk


26 September | CLIMATE CHANGE & SUSTAINABILITY Forum
10.00 - 12.00
Topic: 'Wind and solar energy: the global rise of the two prominent clean energy sources in the overall energy mix'
Guest speakers: Gregg Taylor, Associate, Sustainable Places & Energy, WSP Parsons Brinckerhoff and Barny Evans, Head of Sustainable Places, Energy and Waste, WSP Parsons Brinckerhoff

28 September | DIGITAL TRANSFORMATION & INNOVATION Forum
9.00 - 11.00
Topic: 'Platforms: the number one wealth creators in the 21st century, or the emergence of new business models'
Guest speakers: Alizée Vasseur,International Digital Marketing Strategist and CMO, Buzz&Go and Benoit Reillier, Managing Director, Launchworks & Co

18 October | WOMEN'S BUSINESS CLUB
12.30 - 14.00
Guest speaker: Dame Carolyn McCall OBE, Chief Executive, easyJet

2 November | FINANCE FORUM
8.30 - 10.00
Topic: 'The CFO, when and why do you need one?'
Guest speakers: Patrick Fenton, Partner, KPMG and Michaël Elalouf, CFO, iwoca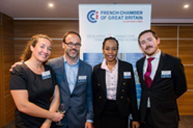 Rendez-Vous chez The Wesley
6 September 2017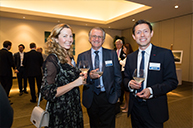 Summer Champagne Reception at The Hurlingham Club
11 July 2017