Dear Members,

Prime Minister Theresa May will trigger Article 50 today, marking the beginning of the negotiations and giving relative certainty to what is an increasingly complex matter. The worry now is whether two years of negotiations will be enough. Most doubt it; instead calling for an interim agreement after two years, to give more time for the UK and the EU27 to negotiate their new, post-Brexit relationship.

The Deputy Mayor of London, Rajesh Agrawal – standing in for Sadiq Khan – underlined this in his speech at our Annual Gala last week: Brexit must not result in the UK closing itself to Europe.

With this in mind, the Chamber is also launching the inaugural session of the Brexit Forum this morning – perfect timing. Guided by the Forum's Co-chairs, EDF Energy's Angela Hepworth and PwC's Neil Sherlock, participants will decide the themes that they would like to discuss in future sessions. I would encourage you to read our interview with the Brexit Forum's Co-chairs in the current issue of INFO, to learn more about what this forum will do.

Brexit is not the only current affairs issue that will affect the Franco-British community over coming months, however. The French presidential election is also a significant event, which is why we have dedicated our next Economic Update on the issue. On 25 April, a couple of days after the premier tour, John Peet, Europe Editor at The Economist; Florentin Collomp, UK Correspondent for Le Figaro; and Laurent Bigorgne, Executive Director of the Institut Montaigne, one of France's most influential think tanks, will discuss the likely outcomes and wider impact of the French election. This is a must-attend event for anyone with an interest in French politics and its wider geopolitical impact.
As you will discover below, the Chamber has a jam-packed calendar of events, forums and clubs coming up. I hope to see many of you soon.

Best regards,
Florence Gomez,
Managing Director



The full list of events can be found in the right-hand column
25 April | 08.30 to 10.30
Theme: French Presidential Election: For better, for worse?
At the French Institute
Sponsored by Aubaine
Guests speakers:John Peet, Europe Editor, The Economist; Laurent Bigorgne, Executive Director, Institut Montaigne and Florentin Collomp, UK Correspondent, Le Figaro
Cost: £25+VAT per person; £40+VAT - Special price for 2
Book online

5 MAY | 8.00-10.00
At the Berkeley Hotel
Sponsored by PAUL UK
Cost: £40+VAT per person; £60+VAT - Special price for 2
Book online

BACK TO THE TOP

This heading is yours!
Please send your news to Jason Hesse. We will choose a selection of news to publish.

BACK TO THE TOP

two corporate members

Early Metrics
Rating agency for start-ups and SMEs
Represented by Antoine Baschiera, CEO
+44(7) 55 5803 163
Rating agency for start-ups and innovative SMEs, assessing their growth potential through the analysis of non-financial metrics, on behalf of investors and corporates.

European Insurance Services (EISL)

Intermediary in insurance construction specialist
Represented by Sandrine Streeter,
HR Business Partner
+44(0) 18 9255 7626
European Insurance Services (EISL) is a European insurance intermediary operating in France and headquartered in the UK. EISL acts as an underwriting agency for global insurers providing construction insurance solutions.
ME Languages
Teaching languages to business professionals
Represented by Neil McCann, Business & Marketing Manager
+44(0) 20 7607 1372







French Radio London features
Eugenie Munakarmi, COO of Children of the Mekong, is interviewed by French Radio London (in French).
Listen
LATEST ISSUE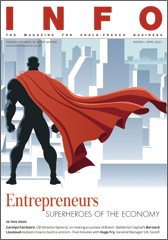 25 APRIL | 18.00-20.00
RENDEZ-VOUS CHEZ DEVIALET
Cost: £20+VAT per person

11 May | 18.00-20.00
RENDEZ-VOUS CHEZ LA MAISON MAILLE
Cost: £20+VAT per person

7 June | 18.00-20.00
RENDEZ-VOUS CHEZ BOUCHERON
Cost: £20+VAT per person

14 June | 19.00-22.30
DINER DES CHEFS AT THE HYATT REGENCY HOTEL
With Jean-François Rouquette, Executive Chef of the Michelin-star Restaurant Pur' at Park Hyatt Paris-Vendôme
Cost: £95+VAT per person

20 June | 18.00 to 21.00
FROM SCRATCH TO SUCCESS: BUSINESS STORIES
At the French Institute
Guest Speakers: Didier Rappaport, Co-Founder of DailyMotion and CEO and Founder of Happn; and Pascal Cagni, Founder - CEO, C4 Ventures and Apple Europe GM, VP (2000-2012)
Cost: £40+VAT per person; £65+VAT - Special Price for 2



20 April | 8.30-10.30
Venue: Four Seasons at Ten Trinity Square
Theme: Gender diversity in the luxury sector



25 April | 08.30-10.00
Theme: How to find the best board members and advisors for startup success



19 April | Finance Forum
08.30-10.00
Theme: M&A: Successful integrations
27 April | Climate Change Forum
08.30-10.00
Theme: Agriculture and climate change: Post-COP23
Guest speaker: Eric Giry, Agricultural Counsellor for the United Kingdom and Ireland, French Embassy
4 May | HR Forum
8.30-10.00
Theme: Managing multicultural teams
Guest speakers: Peter Alfandary, Principal at PRA CrossCultural & Business Development, Head of French Team at Reed Smith LLP and Senior Vice President of the French Chamber; second speaker to be confirmed shortly

Register your interest with Ophelie Martinel 0207 092 6634