Dear Members,

The UK Government and the EU Commission have now held their second round of negotiations and we are beginning to see welcome signs that the government's stance is softening in certain policy areas. Last week, UK Home Secretary Amber Rudd wrote in the FT that there will be no cliff edge on immigration, much to business leaders' relief – but many questions still remain.

To help answer your queries, I would encourage you to read the Brexit pages in the current issue of INFO: Irwin Mitchell answers some of your frequently asked questions about the rights of French people to live in the UK, while business leaders from Airbus and PwC dissect the business impact of Brexit on talent and mobility.

Turning to the months ahead, we have two flagship events among others in the pipeline. First, a new event dedicated to the luxury sector, the London Luxury Think Tank, organised with luxury alliance Walpole, which will be held on 31 October and 1 November.

Later, on 30 November, we will also hold our annual Franco-British Business Awards, which celebrate the vital trade and investment links between our two countries.

There are three categories that you can apply for: the Start-up and SME Award, Large Corporate Award and Sustainability Award. Now in their 18th year, and with the UK soon to leave the EU, it has never been so important to highlight and promote the achievements of Franco-British companies of all sizes.
Get in touch to find out more.

Finally, our Forums & Clubs team have put together an amazing line-up of sessions in the rentrée. Our forums are free to attend and each session brings together experts around the table to dissect topical issues – I would strongly encourage you to join.

I look forward to seeing you soon and wish you a great summer.

Best wishes,

Florence Gomez,
Managing Director



The full list of events can be found in the right-hand column
18 September | 18.00-20.00
At Middle Temple
In partnership with 13 Chambers of Commerce
Cost: Member rate at £30+VAT per person ; Non-member rate £40+VAT per person
Book online


29 September | 08.00-10.00
At the Bulgari Hotel
Guest speaker: Fabienne Viala, Chairman, Bouygues UK
Cost: £40+VAT per person; £60+VAT - Special price for 2
Sponsored by: Paul UK
Book online

Brexit: UK-EU freedom of movement 'to end in March 2019'
A new immigration system will be in place by March 2019 when the free movement of people between the EU and the UK ends, a minister has said.
BBC News
EU and Britain fail to reach agreement on half of issues in Brexit talks
The EU and UK Brexit teams working on the future rights of EU citizens in the UK and Britons in Europe have failed to reach agreement on 22 of the 44 issues under negotiation, a joint working paper has revealed.
The Guardian
Brexit: UK citizens living in the EU face losing the right to move to another member state
British people living in the EU face losing their automatic right to move to another member state after Brexit, as the exit talks turn increasingly sour.
The Independent
France wants hardest Brexit, says City envoy to EU
Adversarial posture made plain in talks at French central bank, Treasury and MPs told France favours the "hardest Brexit" and is "seemingly happy" for an outcome detrimental to London, according to a leaked memo written by the City's envoy to the EU.
Financial Times
BACK TO THE TOP

This heading is yours!
Please send your news to Daphné Aguettant. We will choose a selection of news to publish.

BACK TO THE TOP

5 new corporate members
Entrepreneurs Partners LLP


Investments, consulting & private equity
Represented by Bruno Deschamps,
Chairman & CEO
+44(0) 20 7589 1586
Entrepreneurs Partners provides capital, experience and a network to entrepreneurs and investors. Its capital arm was launched in 2011 and operates as a syndicate of experienced business angels committed to investing in and mentoring fast-growing European SMEs. Its separate advisory arm, launched in 2010, offers hands-on financial advisory services to institutional shareholders.
Hilton Bankside


Luxury Design Led Hotel & Event Venue
Represented by Carmen Rademacher,
Director of Sales
+44(0) 20 7593 3955
Nestled in London's vibrant Bankside area, Hilton London Bankside offers the perfect base for exploring the city. Locating just steps from the Tate modern, the Thames river, Borough Market and Shakspeare's Globe theatre. Stunning meeting and conference facilities make the hotel ideal for your next event, and our exciting location keeps business and travelers in the heart of London.
Silvera


Specialises in designer furniture and accessories
for home and workspace
Represented by Brigitte Silvera,
Director
+33(0) 1 53 63 25 10
Founded by the Silvera family in 1990, SILVERA has become the leading contemporary furniture and lifestyle retailer in Paris, turning over €84m in 2016. It encompasses 10 Parisian showrooms, 1 London flagship, a 6000m² logistics centre, a SILVERA vehicle fleet, a French eShop, a dedicated export department and over 170 employees. The SILVERA catalogue contains over 500 international designer brands and showcases the world's most iconic and up-and coming designers.
The Langham London


Luxury 5 stars deluxe hotel in london
Represented by Christian Black,
Sales Manager, Private Dining & Events
+44(0) 20 7965 0132
The Langham, London was opened in 1865 by HRH The Prince of Wales as Europe's first 'Grand Hotel' with an unrivalled location at the top of Regent Street. After an extensive transformation, The Langham, London has refined The Art of the Stay, offering luxurious guestrooms and suites, classically styled and evoking a warm residential feel with flawless service.
Willis Tower Watson

Global advisory, broking and solutions company
Represented by Nick Dussuyer,
Head of Clients & Industries Western Europe
+44(0) 20 3124 8995
Gras Savoye Willis Towers Watson is a leading global advisory, broking and solutions company that helps clients around the world turn risk into a path for growth. We deliver solutions that manage risk, optimize benefits, cultivate talent, and expand the power of capital to protect and strengthen institutions and individuals. Together, we unlock potential.
J2–Reliance
Cross-cultural leadership, organisational culture, conflict management
Represented by Jacques Arnol-Stephan,
Leadership Coach & Director
+44(0) 79 1792 2449

Omyagué
Fair organiser - High end corporate gifts
Represented by Nahalie Cozette,
CEO
+33(0) 6 8648 4452

Promosalons UK
Sales and marketing for international trade shows
Represented by Amelie Galatry,
General Manager
+44(0) 20 8216 3100

Street League
Young people's sport for employability charity
Represented by Nithee Kotecha,
New Business Development Manager
+44(0) 75 8099 5461

The Money Cloud
International money transfer comparison platform
Represented by Emmanuel Addy,
Chief Commercial Officer
+44(0) 20 7100 5641






LATEST ISSUE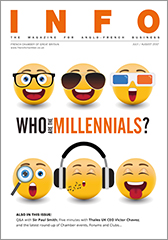 6 September | 18.00-20.00
Rendez-vous chez
The Wesley
At the The Savannah Restaurant, The Wesley
Cost: £20+VAT

18 October | 18.00-20.00
Rendez-vous chez Joseph
At Joseph, Marylebone
Cost: £20+VAT

23 November | 12.00-14.30
Annual Financial Lunch
At The Langham Hotel
Guest speaker: François Villeroy de Galhau, Governor of the Bank of France
Sponsored by Societe Generale
Champagne partner: Vranken Pommery
Cost: £120+VAT per person, £1,150+VAT for a table of 10
30 November | 19.00-22.30
Franco-British Business Awards
At The May Fair Hotel
Main sponsors: Eurostar, Mazars
Supporting sponsor: Frenger International
Cost: £110+VAT per person, £1000+VAT for a table of 10
For sponsorship opportunities, please contact Anne-Claire Lo Bianco at alobianco@ccfgb.co.uk


12 September |8.30-10.00
Topic: 'Personal branding is the new marketing: are you onboard?'
Guest speakers: Amanda Tran, Managing Director, JIN and second speaker to be confirmed shortly


4 September | CLIMATE CHANGE & SUSTAINABILITY Forum
10.00-12.00
Site visit to Queen Elizabeth Olympic Park Centre organised with ENGIE
6 September | BREXIT forum
8.30 - 10.00
BREXIT FORUM
Topic: 'Regulations / Customs Union'
Guest speakers: John Keefe, Director of Public Affairs, Eurotunnel Group and Lara Robinson, Principal Policy Adviser, CBI
13 September | RETAIL Forum
8.30 - 10.00
Topic: 'The Future of Retail'
Guest speakers: Sylvie Freund-Pickavance, Group Strategy & Business Development Director, Value Retail and second speaker to be confirmed.
14 September | HR Forum
8.30 - 10.00
Topic: 'The benefits of flexible working'
Guest speakers: Chris Dunford, Human Resources Director - Global Service Delivery, American Express
Global Business Travel and second speaker to be confirmed

26 September | CLIMATE CHANGE & SUSTAINABILITY Forum
10.00 - 12.00
Topic: 'Wind and solar energy: the global rise of the two prominent clean energy sources in the overall energy mix'
Guest speakers: Gregg Taylor, Associate, Sustainable Places & Energy, WSP Parsons Brinckerhoff and Barny Evans, Head of Sustainable Places, Energy and Waste, WSP Parsons Brinckerhoff

28 September | DIGITAL TRANSFORMATION & INNOVATION Forum
9.00 - 11.00
Topic: 'Platforms: the number one wealth creators in the 21st century, or the emergence of new business models'
Guest speakers: Alizée Vasseur, CMO and UK Office Representative, Buzz&Go and Benoit Reillier, Managing Director, Launchworks Ventures

11 October | FINANCE FORUM
8.30 - 10.00
Topic: 'The CFO, when and why do you need one?'
Guest speakers: Patrick Fenton, Partner, KPMG and Michaël Elalouf, CFO, iwoca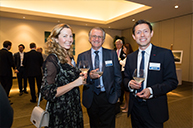 Summer Champagne Reception at The Hurlingham Club
11 July 2017